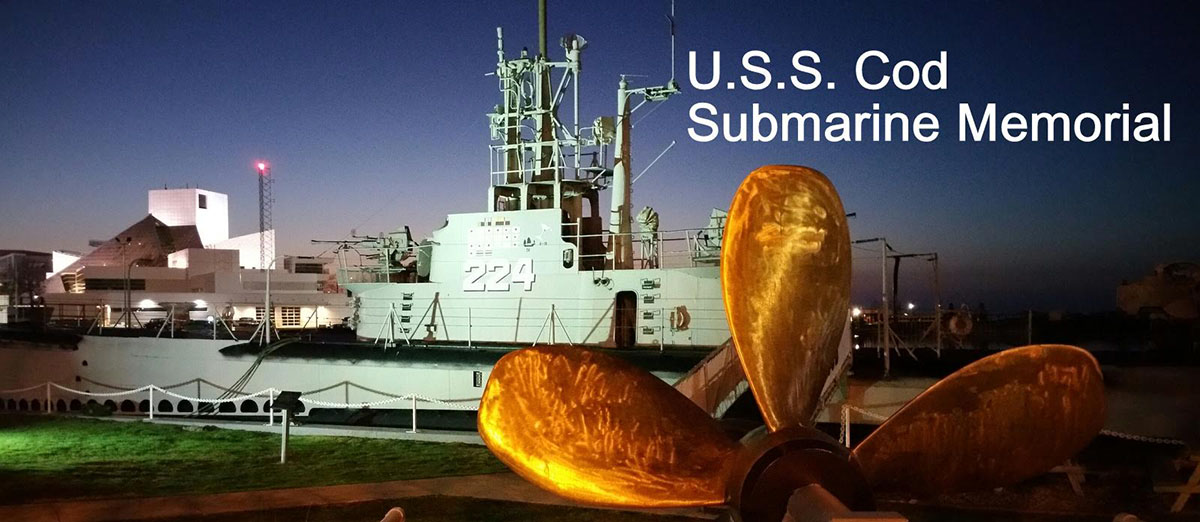 CONTACT USS Cod:
To book special group tours: Cod tours are self-guided. For group tours/rates of 10 or more, please contact codkeeper@yahoo.com to book tours (guide may be available).
All other Cod topics: pfarace@att.net
To contact the webmaster: sandyefakan@gmail.com
Voice: April 27th to Sept. 30, 10 a.m. to 5 p.m. (open season) 216-566-8770
All other times: 216-408-6991
Interested in joining the USS Cod crew? Everyone is welcome to join the diverse crew that maintains, restores, and brings to life this amazing National Historic Landmark submarine. To find out how, contact: Paul Farace
Please address all correspondence to USSCOD Submarine Memorial to the following business address:
5274 Townsend Rd.
Richfield, OH 44286

Please do not use any other address including the 1089 E 9th St., or North Marginal Rd. addresses! They no longer exist and are not recognized by the USPS.
USS COD HOME PORT
USS COD SS-224 World War II Fleet Submarine
The USS COD Submarine Memorial is a National Historic Landmark and is docked in Cleveland, Ohio.
USS Cod is closed for the winter. We will reopen on Friday, May 1, 2020 and will be open daily until Sept.30. We're planning on opening Saturdays in April beginning on April 18, 10 a.m. to 5 p.m. Private tours can be booked any time, weather permitting by contacting us at: codkeeper@yahoo.com

UPCOMING EVENTS

Friday Jan. 31 to Sunday, Feb. 9 

USS Cod display at the HOME SHOW at the IX Center.

Saturday April 18

USS Cod 2020 "Soft Opening" 10 a.m. to 5 p.m.

Saturday April 25

Open for tours (10 a.m. to 5 p.m.)

Friday May 1

Open for daily tours.

Saturday, July 11

Dutch Friendship Day. We celebrate the 75th Anniversary of Cod's wartime rescue of the crew of the Dutch submarine O-19.
***Please note that the event begins this year at 12 pm noon.***

Thursday, July 30

USS Grunion Lost boat ceremony at 2 p.m..
View the USS Cod's Cold War Crew
---
USS Cod will officially open on Saturdays in April on April 18 and 25. Daily tours will begin on May 1 until Sept. 30, 2020. Cod will then be open only on Saturdays only until Dec. 12. Our tour day is 10 am to 5 pm. Last visitors go below at 4:30 pm to ensure enough time to see the entire submarine.
School field trips to COD have been very popular and are encouraged as an educational and entertaining experience for area youngsters. Free parking and discounts from the already nominal admission fees are provided. Please call (216-566-8770), or use the e-mail address below to make arrangements for field trips. During our off-season our telephone is not answered, so please use e-mail to contact us.
Our admission prices are: $12 for adults, $10 seniors and veterans, $7 youths (grades K-12). Preschoolers and active duty in military uniform are admitted for free.
Come aboard and travel back in time to a place where survival depended upon silence, deep water, and well aimed torpedoes. USS Cod is where Cleveland honors its veterans!
COD is docked in Cleveland's North Coast Harbor, on North Marginal Rd., between E. 9th St., and Burke Lakefront Airport, about 1,000 feet east of the Rock and Roll Hall of Fame. Use the East 9th St. exits of Interstates 71, 77, and the Memorial Shoreway. Look for USS COD signs to direct you to our site.
A Schematic Diagram of Cod's Torpedo Data Computer has been added to the TDC Restoration page. Click here to see what makes this mechanical marvel "tick".
QuickTime Virtual Reality Tour:
QuickTime VR 3-D images of most of Cod's spaces are now available on this site. Take this link to the QuickTime VR Tour.

If you you do not have the free QuickTime player it is available from Apple.
USS COD Documentary

Our friends at World of Warships, Naval Legends have produced a fantastic two-part documentary
on the USS Cod. It's a great overall look at Cod and her role in WWII submarine combat. Enjoy!
Other News

We recently acquired two GM Cleveland Model 248 engines that had originally been used aboard another WW-II submarine, USS Stingray SS-186. The two engines will be used for parts for the restoration of Cod's engines. These very large V-16, 1,600 HP diesel engines were originally built right here in Cleveland, Ohio -- the last in 1943. Each engine, with its attached DC electrical generator, weighs about 43,000 pounds (21,000 kG). Here is a photo showing one of these engines loaded aboard a transporter. click here

Cod's Mark IV Torpedo Data Computer has been restored to full operation. Click here to see a few photos of this amazing mechanical computer.

Dive Deeper: