USS COD HOME PORT
USS COD SS-224 World War II Fleet Submarine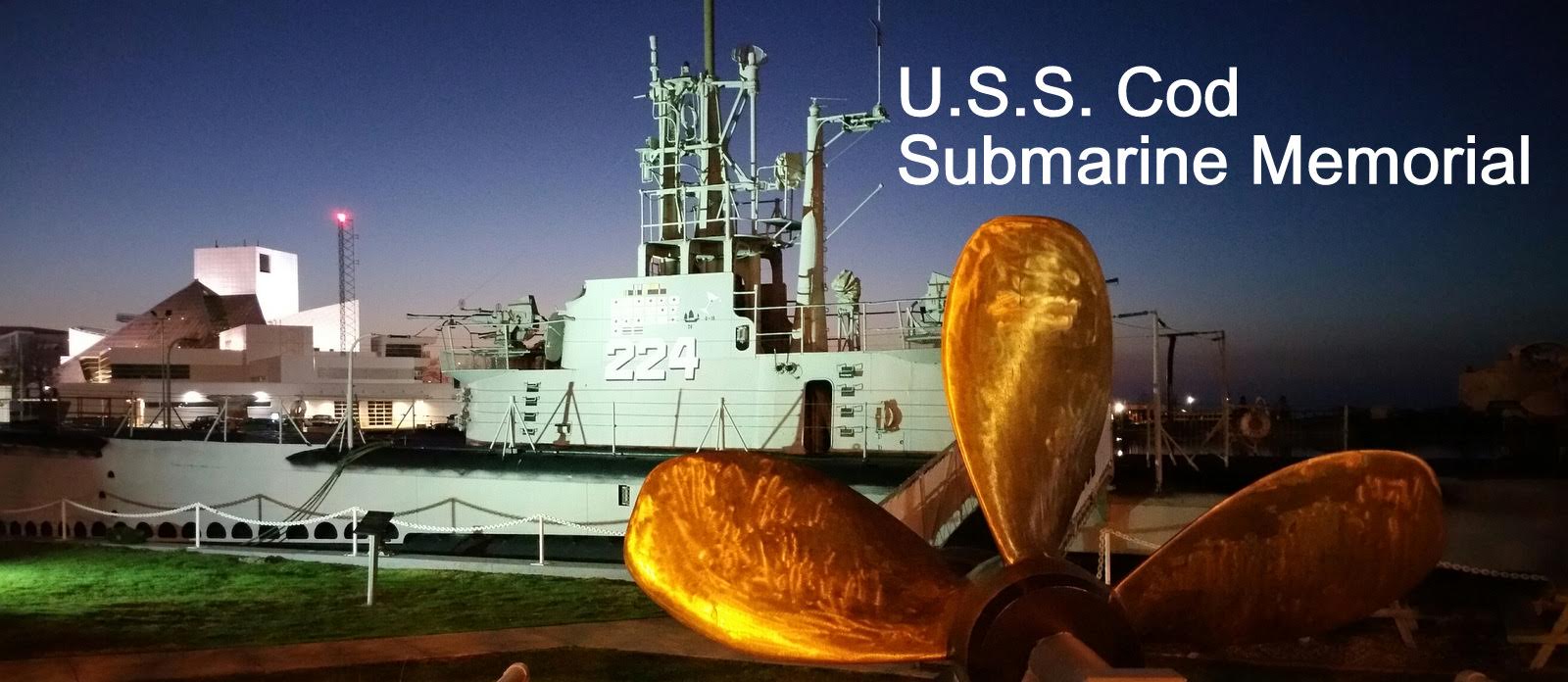 The USS COD Submarine Memorial is a National Historic Landmark and is docked in Cleveland, Ohio.
UPCOMING EVENTS for 2016:
USS COD Submarine Memorial is open to general public tours beginning on May 01, 2016. Group tours can be arranged, by contacting us at usscod@en.com You may also contact us here
Join us on Facebook!
---
Our prices for the 2016 season will be: $12 for adults, $10 seniors & veterans, $7 youths (ages 5-16). Preschoolers and active duty in military uniform are admitted for free.
Come aboard and travel back in time to a place where survival depended upon silence, deep water, and well aimed torpedoes. USS Cod is where Cleveland honors its veterans!
COD's location is N. Marginal Rd., between E. 9th St., and Burke Lakefront Airport.
A Schematic Diagram of Cod's Torpedo Data Computer has been added to the TDC Restoration page. Click here to see what makes this mechanical marvel "tick".
QuickTime Virtual Reality Tour:
QuickTime VR 3-D images of most of Cod's spaces are now available on this site. Take this link to the QuickTime VR Tour.

If you you do not have the free QuickTime player it is available from Apple.
Other News

We recently acquired two GM Cleveland Model 248 engines that had originally been used aboard another WW-II submarine, USS Stingray SS-186. The two engines will be used for parts for the restoration of Cod's engines. These very large V-16, 1,600 HP diesel engines were originally built right here in Cleveland, Ohio -- the last in 1943. Each engine, with its attached DC electrical generator, weighs about 43,000 pounds (21,000 kG). Here is a photo showing one of these engines loaded aboard a transporter. click here

Cod's Mark IV Torpedo Data Computer has been restored to full operation. Click here to see a few photos of this amazing mechanical computer.
Dive Deeper: