| | After Battery Compartment |
| --- | --- |
Named for the second of the two electric storage battery wells below the deck, this is the largest compartment aboard the submarine. It houses the all-electric galley where cooks fed the 100-man crew.
The After Battery Compartment includes 3 main areas:

| | | |
| --- | --- | --- |
For showering, the procedure was to quickly wet yourself thoroughly and then turn off the water. After you had soaped and scrubbed yourself, the water was again turned on for a few moments to rinse away the soap.
Crewman taking a shower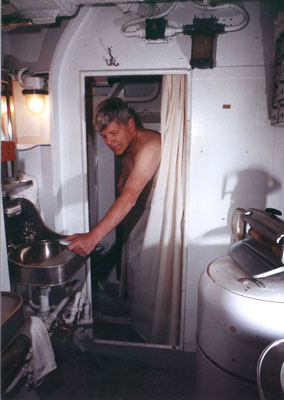 Freshwater showers were a luxury enjoyed by U.S. submarine sailors that were not available aboard most other nation's submarines during WW-II.
---
Back to the tour
Last revised 14-Nov-2014
Copyright © 1996 - 2014 USS COD Submarine Memorial -- All Rights Reserved

Write to the USS COD at: usscod(at)usscod(dot)org Click here to email the USS COD Webmaster